What is Family Ministry?
The United Methodist Church of Vista's Family Ministry consists of regular calendar events where families come together in a time of fellowship and fun. Our families include everyone who attends the United Methodist Church of Vista, whether young or old, married or single.
For questions, please contact
Director of Family Ministries
Upcoming Events
Summer Sunday School 2018

This year, we're traveling to the sea-shore and embarking on a voyage to learn about Jesus' presence with us ALWAYS! Through various stations and experiences, we'll learn that Jesus carries us through all of life's storms.
Music, games, crafts, snacks, and more!
Faith in Action – Summer 2018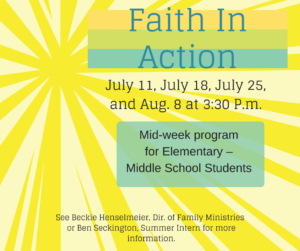 Mid-week program for Elementary – Middle School Students

Meets for 1 hour with prayer, exploring, engaging, and then living out a discipleship point.

Week 1 – Connect with God and God's Family

Week 2 – Grow in God's Character

Week 3 – Serve in God's Church

Week 4 – Share in God's Love
See Beckie Henselmeier for more information.

Club 45 CLUB45 is our preteen group that meets every third Sunday at 10:30 a.m. in Room 212. We will play games and discover God's Story.
Summer Intern 2018:
The Education Committee is proud to introduce Ben
Seckington as a Summer Intern. Ben is a member at Hope
UMC in Rancho Bernardo and will be spending the summer
with us assisting and enhancing our Student Ministry
through the summer months. Please welcome him as we
share in this opportunity to not only build our program but
build a relationship with this young person in Christ.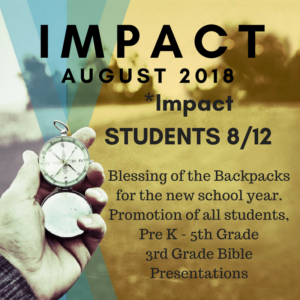 IMPACT Students – Aug. 12
As summer winds down, we're gearing up for the start of the school year! Our annual "Back to School Sunday" will take place on Aug. 12 for IMPACT Students. All students are invited to bring backpacks or lunch-boxes for a blessing for the new school year. Our students will promote into their new Sunday School classes, Pre K – 5th Grade. And our 3rd Grade Bible Presentations. If your student needs a Bible, please email Beckie.
Registration forms for 2018/2019 are here.. Please turn them in by Aug. 26, 2018.
Yearly events include:
"Back to School" Sunday – Aug. 12, 2018 at 10 a.m. worship.
Trunk or Treat

– Friday, October 26, 2018, from 6:00-8:00 p.m.

Children's Christmas Program – Rehearsal, December 8, 2018, from 10 a.m. – 2 p.m. and performance December 9, 2018, at 12:00 p.m.

Easter Walk




Vacation Bible School

is Friday, June 29 – Sunday, July 1, 2018. More information here.
Summer Camps and more!