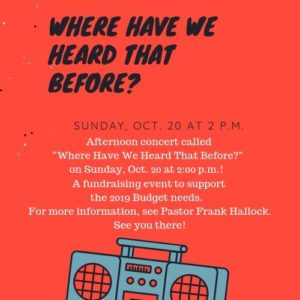 Choir concert that will put some "fun" in a fundraiser, Oct. 20, 2 p.m. The Music Ministry invites you to an afternoon of fun and memories as we offer a concert called "Where Have We Heard That Before?" You know the tunes that, once you hear them, just seem to repeat and repeat in your head? Frequently called 'earworms' these songs are famous both for how catchy and singable they are…and how unforgettable. Cartoon jingles,
TV show themes, and amusement park classics, tunes you will be able to name in three notes! Think "Happy Birthday" or "Jeopardy Theme". That's the program you will be hearing, and participating in as well, for we would love to have you not only come and listen, but sing along! This will be a lot of fun, what a great time to invite friends, colleagues or anyone at all! The concert will be offered on Sunday, Oct. 20 at 2:00 p.m.! Please note the early start time, we want to try that for this light-hearted event, so that you go have lunch and then come back for musical fun, and be finished long before dark. This event is also directly a fundraising event to support the 2019 Budget needs. Our goal would be to raise $1,000 and we are suggesting a modest $10 donation toward that goal. We promise you will have fun and also support all the ministry that is a part of UMC Vista. Again,Sunday, Oct. 20 at 2:00 p.m. For more information, see Pastor Frank Hallock. See you there!
The Chancel Choir
The Chancel Choir shares music for the 11:00 am service. The Chancel Choir features a stunning array of classical hymns, traditional melodies, jazz pieces, spirituals, and contemporary songs conducted by
Rev. Frank Hallock
,
Any adult who loves to sing is welcome. They practice on Thursdays at 7:00 pm.

of Music.
The Praise Band
The Praise Band shares music for the 9:00 am service. The Praise Band features an array of classical hymns and contemporary music. Led by Adam Fararra, Greg Rey, Roy Good, and Jimmy Patton.
Any adult who loves to sing is welcome. They practice at 8:15 on Sundays.
Anderson Hand Bell Choir
The Anderson Hand Bell Choir is the hand bell choir, who performs pieces written for hand bells at special celebrations throughout the year, conducted by
Rev. Frank Hallock
, Minister of Music. They rehearse on Thursdays at 6:00 p.m. in the Choir Room.
The Ringers and Singers and Sunshine Magic
The Ringers and Singers are our Children's Choir who share music in worship once a month. Chimes are led by Carol Pence and Sunshine Magic is led by

Rev. Frank Hallock
,
Any student in Kinder – High School is welcome. They practice on Wednesdays at 3:15 pm.