When you use our website for online giving to The United Methodist Church of Vista, your data is secure. After you create your login and start using the site, you will see a page similar to this: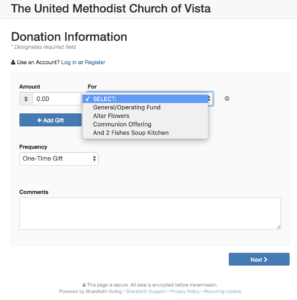 Note the "Secure" logo at the top right of the form and the Statement at the bottom of the form,
"

This page is secure. All data is encrypted before transmission."
Multiple Gifts
You may donate to more than one fund in a single transaction. Click on "+Add Gift" and additional amount and Fund selections will be opened.
You may use this method of giving to make one-time or recurring payments to your pledge, or to make donations to special funds for specific giving.
After logging into your account, enter the amount of your donation then select the fund we should credit. These funds include:
The General/Operating Fund (your pledge is normally made to this account.
Communion Offering (we will apply this donation to the current month)
And 2 Fishes Soup Kitchen
The default is "One-Time Gift. If you wish to make a recurring donation, select the drop down menu and the frequency.