Our relationship with others is an important part of who we are at The United Methodist Church of Vista. Please explore the opportunities on this and also linked pages.
Pastor Leigh Ann's Monthly Blog
Paul teaches the people of Corinth, "All things are lawful," but not all things are beneficial. "All things are lawful," but not all things build up. Do not seek your own advantage, but that of the other." 1 Corinthians 10:23-24
Worship on demand continues: for the safety, and well being of our faith community, we continue to meet online and through Zoom. We DO NOT believe prioritizing the health of our church family is in conflict with our relationship with God or Holy Scripture. We DO believe that tending to our physical wellness is faithful to the God who offers life. Although it may be "lawful" to gather in person, inside a building, it remains unadvised and discouraged by public health leaders, our Bishop and connectional leadership. For more information email Pastor Leigh Ann or our District Superintendent, Rev. John Farley, at the District Office. (02/10/21)
All Church Work Day – March 6

The Trustees will be hosting an all church work day from 8:00 a.m. – 10:00 a.m. on Saturday, March 6. Work will focus on cleaning up the exterior of our facilities in a COVID safe manner. Please bring your gloves and, of course, your masks. Work projects will be assigned as to not combine people from different households. Coffee and donuts provided. Question, please call the church office. -Billy Stempson
Online Worship
Worship with us ONLINE. You can find our worship time at our YouTube channel at United Methodist Church of Vista. Or, if you receive a weekly newsletter, you will receive a link every week for our service.
We are developing a plan for safe in-person worship and gathering. Any in-person events, including worship will be offered only when we can assure the safety of our congregation and community. Until there is a vaccine or other treatment for COVID-19, any in-person gatherings will require face masks, physically distancing of at least six feet, limited singing, spoken litanies, prayers and sermons, no potlucks or offered coffee/cookie fellowship, and no handshakes, hugging or other greeting line with the pastor or church staff. Our plan is being developed with guidelines from our Bishop, Annual Conference, city and state guidelines and best practices based on up-to-date health information.
Food donations for North County Food Bank and Interfaith Community Services
We are collecting food donations to take to the North County Food Bank and Interfaith Community Services.
How can you help? Either drop off food items or schedule a pick-up on

Wednesday, March 17

. To Drop off: leave at the church office, on the bench outside the front office door between 9 am and noon. For Pick-Up: please email Brenda and Mike Walker at Brendakwalker@cox.net and plan to leave your items on your porch or curb by 9 am.
For more information call Brenda and Mike Walker at 760. 726.0442.
NO expired or open food, glass jars or homemade items.
Blankets needed


Our homeless population has a real need for BLANKETS. Please drop them off on THURSDAYS in lower parking lot between 1:00 and 4:00 p.m., during our soup kitchen preparation. If these hours aren't convenient for you, we will have a container available for these items on Wednesday, March 17 between 9:00 a.m. to 12 p.m., which is when we will pick up items for our food bank drive. Questions: please call Brenda Walker. Many thanks for your continued support of our less fortunate.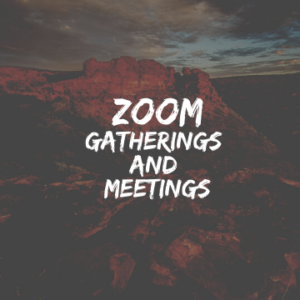 Zoom meetings are one way we are working on keeping connected. All you need is a computer or smartphone with a built-in microphone and a camera and you can join in. Download the Zoom app to your device, click on "join a meeting" and follow the prompts to join the gathering.
Leigh Ann's Sunday Coffee Chat, Sundays, 10:30 a.m.

Sunday School UMCV, Sundays, 9:00 a.m.
No Host-Drop In Coffee Chat, Wednesdays, 10:00 a.m.
SPRC, March 3, 6:00 p.m.
Congregational Care Meeting, March 4 & 18, 1:30 p.m.
Nominations, March 9, 6:0 p.m.

Education Committee, March 10, 6:00 p.m.
Trustees, March 16, 6:30 p.m.
Finance, March 24, 7:00 p.m.

Church Council, Feb. 27, 9:00 a.m.
Update from the Education Committee
Zoom Sunday School NOW!
The Education Committee has launched a Zoom Sunday School experience for Elementary aged children which started on Feb. 21. Please join us Sundays, from 9:00 – 9:30 a.m. Zoom meeting ID is 919 5446 4606. The lesson will include prayer, music, a lesson and a craft assignment. If your child is interested in participating in this experience please contact Margene Haase or Suzanne McMurchie or email the church at umcvista@umcvista.org.
Reflections on Lent
Lent provides us with a time of reflection and invites us to be intentional about returning to God. Lent, which begins with Ash Wednesday, February 17th, represents the time Jesus spent in the wilderness resisting temptation. It is a time of preparation for the crucifixion and resurrection of Jesus Christ. It is also a time of reminding ourselves that Christ took up the cross out of love for all of us.
During Lent we often eliminate something from our daily lives as a symbol of sacrifice. Certainly, this year, with the continued pandemic, we came face to face with personal sacrifice—financial, emotional, the loss of loved ones and connectedness. These losses have caused us grief and weigh heavily on our hearts.
But Lent is also a time of personal, spiritual renewal. As we reflect on our own practices, through self- examination, repentance, and through our daily scripture readings, let us be open to what God is asking us to do. Let us also recount our many blessings and express our gratitude to God. When we do so we can achieve a more sacred rhythm with Christ our Savior.
And most importantly, as we take our personal Lenten journey, let us be mindful that every day brings us closer to Easter and our risen Lord. This understanding helps temper our inner struggle during Lent, so that the spirit of Lent may be fully realized. Let us take heart that each day closer to Easter, brings us the assurance of Christ's love—that He died for our sins and gave us everlasting life.
Prayer for Lent
Thank you for knowing our hearts and our need for rhythms in our lives. Thank you for drawing us into a deeper communion with you for the coming 40 days. May we remember your gift of salvation. In Christ our Lord we pray. Amen

Dakota Koenig, Lay Minister
In response to the coronavirus pandemic and out of concern for the well-being of our community, we are postponing our church meetings and activities until further notice. Don't hesitate to contact us for prayer or to talk.
The Education/Discipleship program is postponing meetings and activities until further notice.
Family Game Night is postponed until further notice.