What is Family Ministry?
The United Methodist Church of Vista's Family Ministry consists of regular calendar events where families come together in a time of fellowship and fun. Our families include everyone who attends the United Methodist Church of Vista, whether young or old, married or single.
For questions, please contact
Director of Family Ministries
Upcoming Events
Summer Sunday School,
9 a.m. Sundays, June 9 – July 21, 2019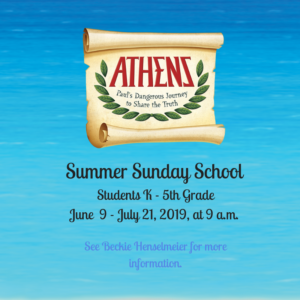 This year, travel to the sea-shore and embark on a voyage to learn about Jesus' presence with us ALWAYS! Through various hands-on learning, we'll learn that Jesus carries us through all of life's storms. Music, games, crafts, snacks, and more!
Registration forms for 2018/2019 are here.. Please turn them in by Aug. 26, 2018.
Yearly events include:
Summer Camps
"Back to School"
Trunk or Treat
Student Family Christmas Movie and more!