Communion Sunday, February 9
The Communion offering for Sunday, February 9 will go to McCurdy Ministries Community Center located in Española, NM, where for 103 years, United Methodists have been working. McCurdy Ministries is thriving and striving to make an important difference in the Española Valley, working in partnership with McCurdy Charter School (MCS) which is located on their campus. McCurdy Ministries Community Center creates hope and empowers the lives of children, youth, adults and families through education, life skills and faith-based programs. Their ministries include McCurdy Preschool, Project Cariño (mental health counseling program for MCS students and families), After School Care, Camp Stars (summer camp that combines the best of VBS with STEM education) and their Volunteer Program which welcomes volunteers to their campus from around the country. Please give to this mission project.
X-tra Mile Ministry Giving for February
Our X-tra Mile Ministry Giving for February will benefit Vista Teen Outreach – Hunger Hurts. With over 800 students in Vista's middle and high schools who are hungry, homeless or both, Vista Teen Outreach provides easy access on campus to food pantries. They are stocked with food, water and hygiene kits and available to any student in need. Your donations can be dropped off in the Narthex. Thank you for your caring and generosity. For more information see Pat Rose or Sherry Johnston.
And Two Fishes Soup Kitchen
A group of volunteers provides food, clothing, and fellowship to homeless men and women each week on Thursday night. We rely on the generous gifts of church members and members of our local community to make a nutritious dinner, as well as a sack lunch for the next day. We invite you to participate in this ministry, working on meal preparation from 2:00 pm until 4:00 pm and meal service from 5:00 pm until 6:15 pm. Contact the church for volunteer details.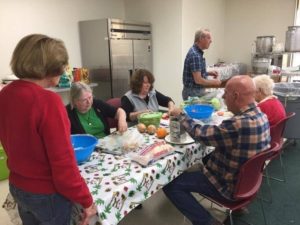 The UMC Vista Foundation
This foundation receives gifts, often in the form of trust or will bequests, to remember special people in our lives and to benefit spiritual growth at the UMC Vista. During 2017 we have served two primary projects.
The foundation awarded more than $3,000 in Academic Scholarships for the 2017/2018 school year to active members of UMC Vista or their family members. These scholarships are for attendance at an accredited college, trade school or other training program.
In addition, $2,600 was awarded for District Summer Camp Scholarships. These camps are week-long, overnight, Christian-based camps where our children engage in worship, small group and large group activities and games.
At summer camp, children grow in their faith, learn leadership skills, grow their self-esteem, develop inter-personal skills with peers and adults, make life-long friendships and have fun.
UMCOR is a ministry of
The United Methodist Church
, and our goal is to assist the most vulnerable persons affected by crisis or chronic need without regard to their race, religion, gender, or sexual orientation. We believe all people have God-given worth and dignity.
Second Saturdays
is Days for Girls Workshop in Escondido. Days for Girls is a charitable foundation that makes it possible for young girls around the world to attend school every day. If you can sew, cut, stack, quality control, you can help
10 a.m. to 2 p.m
. is our next date. Gather at our church to carpool at 8:15 a.m. Please contact Barbara Mitchell, 760.726.0442 for more information.
Church and Society Committee's
Helping Hands Outreach
Church and Society is proud to announce our UMC
Helping Hands Outreach is ready! If you would like to
see our shelves, see a member of Church and Society who
will gladly show you! A list of available items is posted.
We have been working on this project for several months
and that work has paid off! We have simple and basic
necessities of life available for the homeless as well as
the working poor. Volunteers will be available Thursday
evenings between 4:30 – 5:30 p.m. to attend to the project.
Additional hours will be added at a later date.
We are in need of new or gently used sun hats or caps. If
you have any hats you'd like to donate, please drop them in
the designated box in the Narthex. For more information,
please contact Sherry Johnston, 760.726.0442.
Last year we earned more than $3,000 from the sale of more than $80,000 in gift cards. These profits are designated to capital expenditures for our children and youth. For example, the play structure, all of the furniture in the children and youth rooms, as well as half of the classroom video systems were purchased with SCRIP funds. We buy these gift cards at a discount from the merchants, and the difference is used to fund this important aspect of our ministry.
Cable Outreach Foundation
Since June of 2012, The United Methodist Church of Vista has been able to provide grants to 100 charities for a total of more than $1.6 million. We have been blessed with this opportunity to serve others thanks to the generous gift of approximately $12 million from the George Cable Trust. After retiring the building mortgage, paying legal fees, establishing a reserve account, providing benevolent gifts to Operation Hope, and scholarships to Africa University, the Cable Foundation was formed to begin a process of evaluating annual grant requests. A fund of more than $8.5 million is used to provide the source of these grants, which uphold the social principles of the United Methodist Church. We engage in a process of discernment to ensure that grant requests further our vision of "Making Disciples of Jesus Christ for the Transformation of the World".