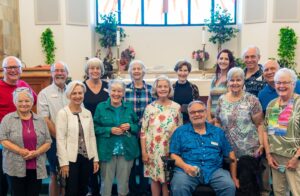 Thank you for all who helped serve during Pride Month! More events to come soon.
UMC Vista Reconciling Ministries Affirmation Statement:
We welcome and celebrate the human family's diversity
We recognize the sacred worth, dignity, and value to the body of Christ of all persons regardless of sexual orientation, gender identity, race, age, ethnicity, physical or mental capacity, education, economic or marital status.

We welcome full inclusion of all people in the life and ministries of our church as we journey toward reconciliation through Christ.
Have any questions about Reconciling Ministries? Please contact Kathy Johnson, Gary Lamb, or Lyn Berry at (760)-726-0442
Saturday, June 3rd, 2023:
Booth at Oceanside Gay Pride by the Beach
Booth at Vista Strawberry Festival
Our church's fourth annual Peace Vigil was held in person at 4 pm on Sunday, December 4, 2022 in the sanctuary. It was an afternoon with a variety of fun and uplifting components, and was opened with remarks by Pastor Leigh Ann and closed with a candlelight ceremony at the Peace Pole led by Pastor Frank.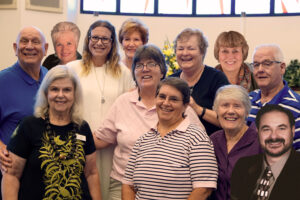 Original Photo of Reconciling Ministries Group in 2016
Celebrate Peace Day, Sept. 22
Please join us around the Peace Pole Sunday, Sept. 22, to celebrate world peace. We will have a time of prayer and
song between services.
Even though World Peace Day is the day before, Sept. 21, we still can focus on worldwide attention to peacemaking. The day was established by the United Nations in 1981 as a way for all humanity to commit to peace above all differences and to contribute to establishing a culture of peace.

Our church has focused on peace by planting peace poles throughout the community, including ceremonies at
Vista High School, Masjid Al-Ittehad, the Vista Buddhist Temple and on Main Street in the city of Vista. The
Reconciling Ministries Community also sponsored a Peace Vigil last year and will do so again this year on Dec. 4, the
first Sunday of Advent.
This year's theme for International Peace Day is climate change, but individuals and organizations can find numerous
ways to go peacefully in the world, in Vista, in our church, and in our homes. Go to
www.internationaldayofpeace.org
to find ideas about non-violence and social justice in the arts, environment, sports, health and education.
Read more...
---
From the Annual Conference 2019
It was a joy to once again serve as one of your representatives
to Annual Conference. Some highlights for me included the
various conversation sessions, learning more of what others
think/feel/believe.
One worship led by the LGBTQ Task Force was powerful.
The term used to describe clergy and others who serve/have
served in the closet for decades and generations is "The Hidden
Faithful." They reminded all of us that they have ever been
serving faithfully and fruitfully alongside us at the expense of
their personal, mental, emotional and spiritual health, and only
now are being themselves. The sermon encouraged us to see
the image of God in others and allow God to move as HE wills
in the life of each person. We were also reminded it is our job
in "mishpat," a Hebrew word used to refer to God's actions of
justice and mercy embodied in the life of Jesus Christ.
Another highlight following commissioning was the
introduction of one Maya Usher, 17, a candidate for ministry.
Maya, having just completed 11th grade, told everyone that in
2028 she will be the Rev. Maya Usher! She shared a little of her
story and her vision that all will be truly welcome and young
people voices will have more say in the church and the workings
for social justice. She left us with: "If you want to see a new
church, just watch me!"
It is always a blessing to attend AC and to see how God
works through so many to bring love, peace and justice into the
world. I invite you to join us next year.
Blessings.
-Barbara Mitchell
Read more...
---