Our relationship with others is an important part of who we are at The United Methodist Church of Vista. Please explore the opportunities on this and also linked pages.
Pastor Leigh Ann's Monthly Blog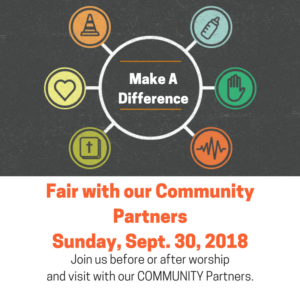 "Make A Difference" Community Partner Faire
Join us before or after worship on Sunday, Sept. 30, 2018 for an opportunity to visit with our COMMUNITY Partners.
Get to know organizations that are doing amazing work in our community and around the world! This is your opportunity to Connect with our Community Partners!
See Beth Brainard Hallock for more information.
Women's Retreat 2018
Saturday, Oct. 13, 2018 from 9:30 a.m. – 4 p.m.
Retreat includes special guest speaker, Rev. Faith Conklin, worship, prayer, lunch, talks on spiritual practices that bring us closer to God and fellowship with Christian women, such as yourself. Don't miss out.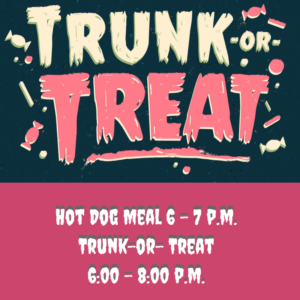 Trunk or Treat 2018 –
Friday,
October 26, on the Upper Lawn from 6 p.m. – 8
p.m. The event is free of charge to any who would
like to come. Trunk or Treat presents us with a
wonderful opportunity to provide a fun and safe
place for holiday celebration for our community!
While our event is free, donations
of new adult socks are welcome. These items will
be donated each week to individuals in need at our
"and 2 Fishes" weekly meals.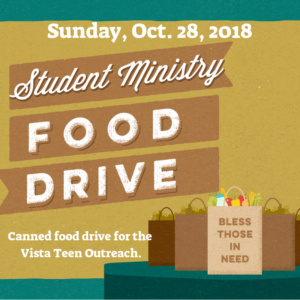 Support the Student Ministry Food Drive,
On Sunday, Oct. 28, costumed students will collect your canned goods and non-perishable items for the Vista Teen Outreach. These items will help replenish the food cupboards that feed families in need across our community.