Our relationship with others is an important part of who we are at The United Methodist Church of Vista. Please explore the opportunities on this and also linked pages.
Pastor Leigh Ann's Monthly Blog
What is a mystic? Bruce Epperly defines mystics as people who see holiness in everyday life. We can be mystics without leaving our families, disengaging from daily responsibilities, becoming a priest, or joining a monastic order. Epperl
y shows how we can experience the living God in the midst of daily life and never again take everyday events for granted.
Bruce Epperly introduces readers to 12 individuals or groups of mystics through the ages. Each chapter describes each mystic's life, spiritual experiences and worldview, and provides spiritual exercises to help us experience the mystic firsthand. Through his conversational, down-to-earth approach, Epperly inspires us to realize that we can encounter God wherever we are, whatever we are doing. Sign up for a class in the Narthex or in the Church Office.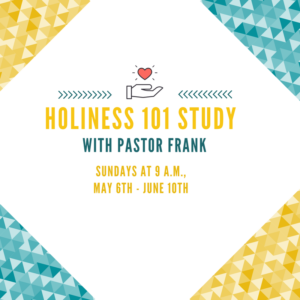 Whether big or small, the choices we make shape our lives' paths.
And the simple, intentional choice to love God, embrace truth,
and enjoy every moment of life is the path to holy habits.
In Holy in the Moment, this study gives a refreshing perspective on
holiness, showing us that holiness isn't a rigid standard to keep,
but is instead a gift to receive through a vital relationship with God. Through gentle encouragement, biblical insights, and applicable ideas you'll learn to discern feelings, overcome distractions, and cast off the weight of shame so that you can choose to grow in holiness without the pressure of perfectionism.
Sign Up in the Office or Narthex
See Pastor Frank Hallock for more information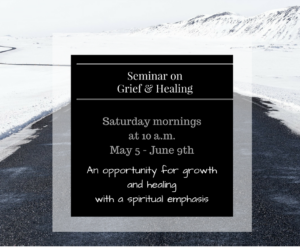 Our church is offering a 6-week Seminar on Grief and Healing on Saturday mornings at 10:00 a.m. beginning May 5 and concluding on June 9. This seminar is to help those experiencing the loss through death of a loved one in their lives. It could be a family member, other relative, or friend. It does not matter how long it has been since the loss occurred, as grief has many manifestations; it may endure for a long time and/or grief of the loss of a loved one can come and go. This seminar will offer an opportunity for growth and healing with a spiritual emphasis. If you have any questions, please contact Kathy Johnson or Susan Delaney.
United Methodist Church of Vista Foundation
Camping Scholarships available
The UMC Vista Foundation is pleased to offer financial assistance to the children of UMCV who want to attend Camp in 2018.

Academic Scholarships Available
You may be eligible for one of our academic scholarships for the 2018/2019 school year.