Your relationship with others is an important part of who we are at The United Methodist Church of Vista.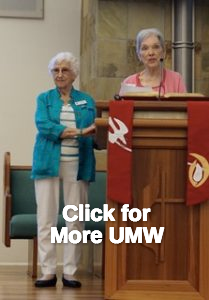 Hawaiian Luau on September 23 to raise funds for national and world-wide mission projects. Tickets will be sold on September 10 and 17, at a cost of $10 each or $25 for a family. Tickets will not be available after Sept. 17.
We meet at the Sunrise Café on Fridays at 7:30 a.m. All are welcome to attend.


1250 S Santa Fe Ave. #R3

,


Vista, CA. 92084
(760) 631-2912
Adult Study (The Wired Word)
Study class for adults that meets Sunday Mornings at 10:00 a.m. in the Chapel around topical issues. The material will be available at the class. Join our discussion group – there are no "right" answers..
The Week of August 6, 2017 our discussion will be focused on:
"DNA Test Opens Family Mystery, Launches Questions of Identity"
The Reconciling Ministries Community
within the United Methodist Church of Vista family welcomes and celebrates our human family's diversity.
New Member Brunch, Sept. 10 after second service! Are YOU interested in officially joining in our fellowship and becoming a part of this church family? You are invited to join us for a new member brunch in the fellowship hall downstairs. It will be a more personal time of getting to know one another, meeting leadership in the church, having a light lunch and sharing in the traditional membership vows of joining the church. Please RSVP to Barbara Mitchell, 760.724.0923; write it on the back of your registration card on Sunday; or call the church office, 760.726.0442 by September 5. We look forward to getting to know you!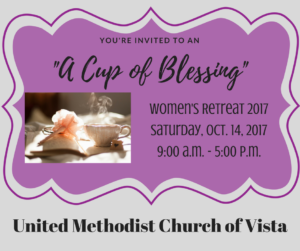 Women's Retreat 2017 "A Cup of Blessing"
All women at the UMC Vista are invited to attend a 1-day Women's Day Retreat.
Saturday, Oct. 14 from 9:00 a.m. until 5:00 p.m. at the Thibodo Community Center.
Worship, study, crafts, food, fellowship and more. $45 includes materials, lunch, and more. Register today Please see Pastor Leigh Ann Shaw or Beckie Henselmeier for more information.