UMW Circles meet February 4: Kenworthy Circle will meet in the library at 2:00 p.m. Ruth Circle will meet at the Broken Yoke Restaurant in San Marcos at 9:30 a.m.
The UMW leadership meeting is Feb. 18 in the Chapel at 10:15 a.m.
The Organization meeting on Feb. 11, 10:00 a.m. will be celebrating the Call to Prayer and Self-Denial program of the Organization. Nannette Stamm will present a program on maternal and child health. A lunch will follow with the menu of "stone soup" representing a sacrifice of the cost of a normal lunch and instead contributing that lunch money for the designated cause of the program. Each lunch participant is asked to bring an item that will become part of the soup, such as a can of peas, corn, tomatoes, etc.
"Heartfelt Thanks from UMW"
Heartfelt thanks from UMW
to all those who
contributed to our Bake Sale. We raised $599 towards
our mission giving goals. We appreciate our bakers, the
buyers, the sellers and especially our Farmers Market
crew: Scott, Tracy and Taylor Lyons, Colleen Guffey,
Tom Humphrey and John Mitchell. Thank you all for
your dedicated work.
Read more...
---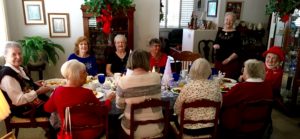 Pictured are some of the members of UMW Ruth Circle enjoying a delicious brunch prepared by Linda Grider for their December meeting. An added highlight was a touching and uplifting video for the devotional presented by Rollin that featured a tender story in song about Mary, Joseph and Baby Jesus.
Read more...
---