The World Thank Offering
The goal of The World Thank Offering is to raise funds to impact the lives of women, children and youth. It is an opportunity for individuals to respond to God's abundant grace and become part of the good work that God is doing in the world. When we share our gifts and they are combined with the gifts of others, our contributions make possible the support of national and international work to meet the physical and social needs of women, children, and youth in our neighborhood and around the world. Read about The World Thank Offering at unitedmethodistwomen.org/worldthank.
To contribute to The World Thank Offering indicate on your check or envelope that it is for The World Thank Offering. Please drop it in the Sunday offering collection box or mail it to the church. Thank you!
-Jacque Howard, President, UMW
United Methodist Women's Bake Sale coming in December. More information coming.
"Heartfelt Thanks from UMW"
Heartfelt thanks from UMW
to all those who
contributed to our Bake Sale. We raised $599 towards
our mission giving goals. We appreciate our bakers, the
buyers, the sellers and especially our Farmers Market
crew: Scott, Tracy and Taylor Lyons, Colleen Guffey,
Tom Humphrey and John Mitchell. Thank you all for
your dedicated work.
Read more...
---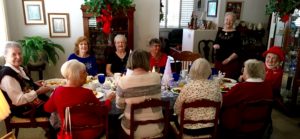 Pictured are some of the members of UMW Ruth Circle enjoying a delicious brunch prepared by Linda Grider for their December meeting. An added highlight was a touching and uplifting video for the devotional presented by Rollin that featured a tender story in song about Mary, Joseph and Baby Jesus.
Read more...
---