Invitation to Join The League of Women's
Voter's Ballot Measures via Zoom
The League of Women Voter's North County San Diego is pleased to present a Pros and Cons Ballot Measure Presentation via Zoom for the United Methodist Church of Vista on Tuesday, Oct. 13 at 1:00 p.m.
The Pros and Cons presentation will provide a nonpartisan, unbiased summary of each state and local ballot initiative, the financial impact of the proposition, key supporters and opposition, and financial contributions made in support of or opposition to the measure.
Two researcher/presenters will present the propositions and, time allowing, answer questions regarding the propositions. Questions can also be submitted in advance through a link on our website and can be submitted in writing during the live one-hour webinar using the Zoom Q & A feature.
To register for this presentation, click this link and follow the instructions to register for the Zoom presentation: http://bit.ly/LWVNCSD_UMCV
For additional information on the ballot measures you may find the following resources helpful:
Voter's Edge: https://votersedge.org/ca
Easy Voter: http://www.easyvoterguide.org/
As a nonpartisan political organization whose mission is to encourage informed and active participation in government at all levels, we look forward to an informative meeting!

×
The UMW Organization is not meeting at this time.
UMW Circles not meeting at this time.
"Heartfelt Thanks from UMW"
Heartfelt thanks from UMW
to all those who
contributed to our Bake Sale. We raised $599 towards
our mission giving goals. We appreciate our bakers, the
buyers, the sellers and especially our Farmers Market
crew: Scott, Tracy and Taylor Lyons, Colleen Guffey,
Tom Humphrey and John Mitchell. Thank you all for
your dedicated work.
Read more...
---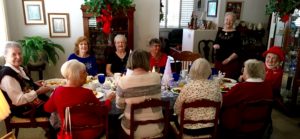 Pictured are some of the members of UMW Ruth Circle enjoying a delicious brunch prepared by Linda Grider for their December meeting. An added highlight was a touching and uplifting video for the devotional presented by Rollin that featured a tender story in song about Mary, Joseph and Baby Jesus.
Read more...
---