Ruth Circle will not meet in September. Kenworthy Circle will meet on September 7, in Fellowship Hall at 1:30 p.m.
United Methodist Women will meet on September 14 at 10:00 a.m., for a general meeting, including a business meeting and guest speaker (11:00 a.m.). We will welcome Dana Bristol-Smith, founder of the Leap to Success program. Leap to Success is designed to provide skills for women to become productive members of society after having experienced major life challenges such as domestic violence and homelessness. Classes to educate and empower women have been held in our building for several years. Come and learn how the program goals are achieved. Everyone is invited, old timers or newbies.
At the close of the program you may want to stay for fellowship and enjoy your sack lunch with old and new friends.
"Heartfelt Thanks from UMW"
Heartfelt thanks from UMW
to all those who
contributed to our Bake Sale. We raised $599 towards
our mission giving goals. We appreciate our bakers, the
buyers, the sellers and especially our Farmers Market
crew: Scott, Tracy and Taylor Lyons, Colleen Guffey,
Tom Humphrey and John Mitchell. Thank you all for
your dedicated work.
Read more...
---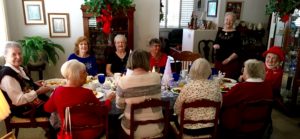 Pictured are some of the members of UMW Ruth Circle enjoying a delicious brunch prepared by Linda Grider for their December meeting. An added highlight was a touching and uplifting video for the devotional presented by Rollin that featured a tender story in song about Mary, Joseph and Baby Jesus.
Read more...
---