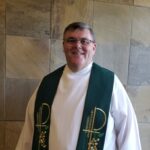 ​

​​​

​
October 17, 2
021 | Service 10:00 a.m.
​
​

Join us for in House Worship
​
Sunday after Pentecost, Mask are required
Rev. Scott Andrews, Guest Pastor
"Unexpected Expectation" Open and print the bulletin prior to Starting the Worship Service download Scripture: Mark 10:17-25 ​(NRSV)​ download
Join us for Virtual Worship On Tuesday, October 19, 2021
* Please be aware: For best conservation and stewardship practice, the worship bulletin will not be printed from the office. The order of Worship and weekly information will be on the screens, and continue to be emailed to your use.
​
​ReLaunch In person Worship and Gatherings Survey download​​