New name
United Methodist Women has a new name announced March 3, 2022. Since the beginning of the organization, it has had more than 25 names, each reflecting the varying times and the union of predecessor denominations. We are again facing a change in the life of the church and in how women live and choose to engage the world in faith. Beginning this year, United Methodist Women will call ourselves United Women in Faith.
The new name is part of a refreshment of the organization that includes a new look, new feel and new programs to better nurture old members and welcome new women into the sisterhood. Also, a new mission statement has been created. The changes are the result of research during the past quadrennium with guidance from the elected UMW board of directors.
We are still the only official women's organization of The United Methodist Church and our legal name will remain United Methodist Women. Checks submitted to our local organization should be made out to Vista UMW. Sounds confusing but it will continue to evolve and much more information is on the new website, uwfaith.org and on facebook.com/women of faith. We remain the organization training women for leadership, growing spiritually, transforming through education and providing opportunities for service and advocacy. We remain women in mission who follow God's call for our time.
United Women in Faith
Kenworthy Circle – Oct. 4, 1:30 p.m. in the Ministry Center. Contact Beverly Hopkins for more information.
Ruth Circle – Oct. 4, 11:00 a.m. in the Ministry Center. Contact Sara Baldwin for more information.
League of Women Voters Presentation
The League of Women Voters will hold a presentation on the State and Local Ballot Measures for the November election on Tuesday, October 11, at 11:00 a.m. in the Ministry Center. The presentation is open to all. For more information or questions, contact Sara Baldwin.
"Heartfelt Thanks from UMW"
Heartfelt thanks from UMW
to all those who
contributed to our Bake Sale. We raised $599 towards
our mission giving goals. We appreciate our bakers, the
buyers, the sellers and especially our Farmers Market
crew: Scott, Tracy and Taylor Lyons, Colleen Guffey,
Tom Humphrey and John Mitchell. Thank you all for
your dedicated work.
Read more...
---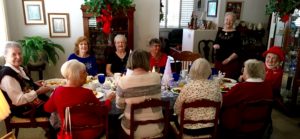 Pictured are some of the members of UMW Ruth Circle enjoying a delicious brunch prepared by Linda Grider for their December meeting. An added highlight was a touching and uplifting video for the devotional presented by Rollin that featured a tender story in song about Mary, Joseph and Baby Jesus.
Read more...
---