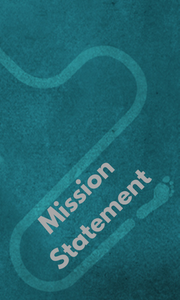 We exist to welcome people to faith; equip people with a faith that works in real life; and send us in service into the world in Jesus' name. Through ongoing, open-group Bible studies, we hope to provide foundational discipleship and a lab environment to practice leadership and ministry skills. Every stage of discipleship matters to the development and maintenance of a mature faith and relationship with Jesus Christ.
* Ongoing Classes: Long-term classes to enrich your study the whole year through.
* "Sunday Suppers" – One-stop classes: Share a meal and learn something about your faith. No extra reading or meetings required.
* Retreats: A time away to study, pray, worship, and reflect.
* Seasonal Studies: Studies around the Holy Seasons of the church – Advent and Lent. Enrich the season with these study options.
* Short-term Studies: Classes that vary in topic and time. Classes tend to run 4-6 weeks and are topical in nature.
On-Going Classes
Disciple: Disciple Fast Track is an adaptation of the original, bestselling Disciple Bible Study. Ideal for busy people who want to fit an in-depth Bible study into their schedule while retaining the familiar Disciple format. This study helps readers deepen their understanding of Scripture and make connections between what they already know and what they are reading. While identifying some needs in the world for which ministry is needed, invites participants to understand the scripture message and to respond. Classes meet for a total of 24 weeks, studying Genesis-Exodus and Luke–Acts for 12 sessions each.
Upcoming Retreats
Women's Retreat 2019
Join us for our 2019 Women's Retreat. Saturday, Oct. 5 from 9: 30 a.m. to 4 p.m.
Meeting at Mission San Luis Rey in Oceanside
We'll be learning about the book of Joshua and how worry impacts our spiritual, physical, and emotional selves. Through worship, lecture, small groups, and devotional work, we hope this retreat will be a time and opportunity for reflection and calm.
Register today by completing the form below.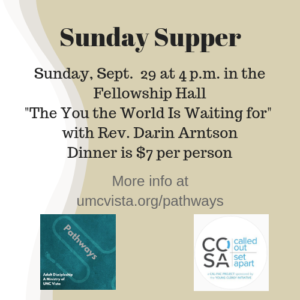 Sunday Suppers
"The You the World Is Waiting For"
Sunday, Sept. 29 at 4 p.m. in the Fellowship Hall
with Rev. Darin Arntson
Dinner is $7 per person
Service as the Associate Director of Leadership, Rev. Darin Arntson is passionate about Young People in ministry. She has developed the program Called Out and Set Apart, which connects young people who are exploring a sense of calling with inspiration, tools for discernment, opportunities for experimentation, and one another.

Rev. Darin Arntson currently serves on staff for the California-Pacific Annual Conference as the Associate Director of Leadership. A native San Diegan, she served in staff roles at several churches across the South District prior to her first appointment as the Associate Pastor at San Dieguito UMC in 2014. While attending Candler School of Theology in Atlanta, Georga, Darin developed a passion for worship and liturgy, as well as for the training and mentoring of future leaders of the United Methodist Church. As a new resident of Pasadena, she enjoys hiking in the local mountains and strolling through Old Town with her Aussiedoodle, Monroe.
Upcoming Seasonal Studies
Advent 2019, December 1- December 24, 2019.
"Light of the World" Advent Study 2019
Advent is not only the perfect time to read the story of the birth of Jesus; it's also a great time to dive deeper into the biblical texts that surround the event. In
Light of the World: A Beginner's Guide to Advent
, author, professor, and biblical scholar Amy-Jill Levine shows how the Gospel narratives connect to the Old Testament; highlights the role of women in first-century Jewish culture; and emphasizes the importance of Mary's visitation, the census, the stable, the star of Bethlehem, and the flight to Egypt. This 4 week study begins soon! Classes and sign-ups listed soon.