What is Family Ministry?
The United Methodist Church of Vista's Family Ministry consists of regular calendar events where families come together in a time of fellowship and fun. Our families include everyone who attends the United Methodist Church of Vista, whether young or old, married or single.
For questions, please contact
Director of Family Ministries
Upcoming Events
Trunk or Treat 2019 –

Friday, Oct. 25th at 6 p.m.
Hot Dog Meal 6 – 7 p.m. Trunk-or- Treat 6:00 – 8:00 p.m.
Costumed kids (and adults) will be treated to games, crafts, a hot dog dinner, and of course, lots of candy! This event will take place on our upper lawn and is free of charge! We are asking for donations of new adult socks that will be distributed at our weekly "And 2 Fishes" weekly meals.
Trick or Treat for Teens,
Education/Discipleship invites you to support Vista Tern Outreach in our drive through October. Our final day of collections will be in Sunday, Oct 27. Items needed are as follows: tuna, granola bars, snack items, Canned soup, Canned raviolis and spaghetti o's, Top ramen, cup o noodles,
and Pasta/canned spaghetti sauce.
Reading Buddies at Breeze Hill Elementary School! The Education/Discipleship program is partnering with Breeze Hill Elementary to start a reading buddy program. Adult volunteers would be needed one to two hours per week to work one-on-one or in small groups assisting students in reading and comprehension. We will have an interest meeting between services in the Chapel on Sunday, October 13. For more information, please see Margene Haase or Beckie Henselmeier.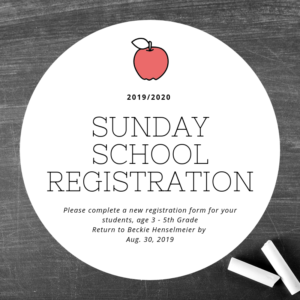 Registration forms for 2019/2020 are here.. Please turn them in by Aug. 30, 2019. Yearly events include:
Trunk or Treat
Student Family Christmas Movie

Vacation Bible School

Music Camp

Summer Camps
"Back to School"

and more!