What is Family Ministry?
The United Methodist Church of Vista's Family Ministry consists of regular calendar events where families come together in a time of fellowship and fun. Our families include everyone who attends the United Methodist Church of Vista, whether young or old, married or single.
For questions, please contact
Director of Family Ministries
Sunday School teachers needed!



The Discipleship/Education Committee would like to
the congregation on the staffing requirements for
school. In order to comply with best practices for
our children's faith development and safety, we are expected
maintain two adults in each classroom setting. Currently,
need three helpers weekly to fulfill this expectation. If
do not accomplish this goal of the two-adult per room
, we will reduce classrooms to one large room for
thru fifth grade and a pre-school class. Any
will receive information and training for this role
our deepest appreciation. Please prayerfully consider
forward to enjoy and share the faith development of
precious children. This ministry and service opportunity
core to the vision of UMC Vista for our future. Jesus said,
"Let the little children come to me, and do not hinder them,
the kingdom of heaven belongs to such as these." (Matt.
:14) Contact Margene Haase or Beckie Henselmeier if
are called to this ministry.
Upcoming Events
Backpack Blessing,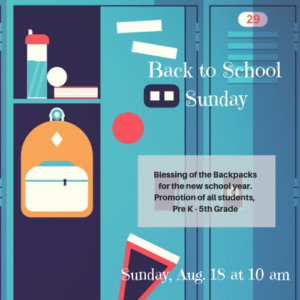 Sunday, August 18 at 10 a.m.
As our students head back to s
chool this fall, we invite
them to bring a backpack, lunch box, or other school item to church for our Annual Backpack Blessing. See Beckie Henselmeier for more details.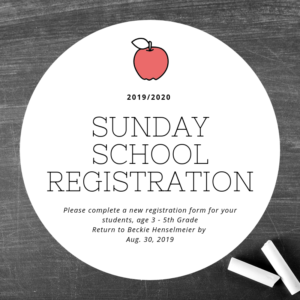 Registration forms for 2019/2020 are here.. Please turn them in by Aug. 30, 2019.
Yearly events include:
"Back to School"
Trunk or Treat
Student Family Christmas Movie

Vacation Bible School

Music Camp

Summer Camps

and more!