Upcoming Youth Event
District Event
Sunday, Feb. 25, 2018, 4 p.m. – 7 p.m.
Confirmation 2018
Week 1 Jan. 21, 2018: Loving Together (Our Journey)
Week 2 Jan. 28, 2018: Wesley and the Methodist (Our History and Heritage)
Week 3 Feb. 4, 2018: A Loving Church (Our Life Together)
Week 4 Feb. 11, 2018: Experiencing God (Our Beliefs)
RETREAT on SATURDAY February 24, 2018 @ the Mission in Oceanside (more info to follow)
Week 5 March 4, 2018: Hitting the Mark-Sin and Grace (Our Theology)
Week 6 March 11, 2018: A Spirit to Find (Our Faith and Calling
If your youth wishes to participate in our youth program, please print and complete the following:
Yearly Youth Events
* Junior High Camp – Grades 7 – 9 (

July 8- July 14th

, 2018)

* Senior High Camp – Grades 10 – Grad (

July 15th- July 21st, 2018)
Sunday Morning Study
9:00 a.m. Youth in Worship
Each first Sunday of the month, students stay in worship the entire hour.
9:15 a.m. Youth Sunday School for middle and high school students.
Join Beth and Jim for Bible study and how it applies in your everyday life.
Youth Group Study
First Sunday of the month
Join us for the MAIN EVENT, play games and eat together. Grow your faith and develop a relationship with Christ through a lesson and hands-on learning activity. Learn more about ourselves and God.
Feb. 11 – Valentine Making & Sundaes
Please RSVP on our BAND page!
March 4
April 8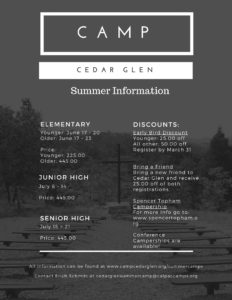 Summer Camp 2018 Registration here.
Sierra Service Project Youth Summer Service Projects
Sierra Service Project offers week-long service projects during the summer for middle school and high school youth groups. Each summer, 125 churches and 2,000 youth and adult leaders join together at one of our sites located in urban and rural communities across the western states. At SSP, youth are safe to grow in their faith, learn new skills, and make new friends while serving those in need. Last summer, teenagers completed 113 projects on 85 homes and community centers. SSP serves the elderly, poor and marginalized. Our service is offered without strings attached, with respect and humility
"Let us rise up and build."
Vision Statement:
The vision for our youth is to give them a voice and to let them know they matter, to provide young people with a place where they feel welcome, accepted, and safe, and to offer them support in all phases of their spiritual journey.
Mission Statement:
The youth group of Vista UMC is dedicated and passionate about giving back to the community. They would like to have a voice in their spiritual journey and trust that the love, kindness, respect, and forgiveness will be returned from the community as they develop into self-reliant adults that become the leaders of tomorrow.
For questions, please contact
Director of Family Ministries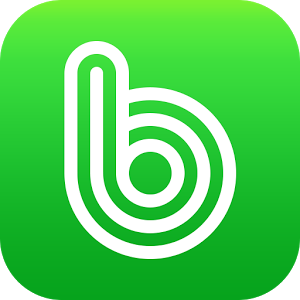 Stay connected with our Band page
The YG at Vista UMC Band page includes our calendar and specifics of our ongoing events for Youth and Families to stay connected throughout the week. See Beckie for more information.