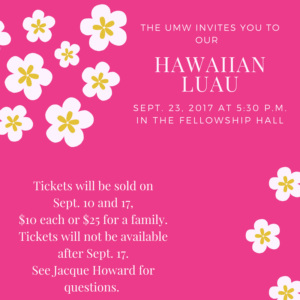 A Hawaiian Luau has good food, music, and hula dancing. Join us on Sept. 23 for exactly that! Dinner and fun beginning at 5:30 in the Fellowship Hall. The UMW are planning an unforgettable evening of fellowship to raise funds for national and world-wide mission projects. Tickets will be sold on September 10 and 17, at a cost of $10 each or $25 for a family. Tickets will not be available after Sept. 17.
See Jacque Howard for more information.
OUR PURPOSE
United Methodist Women are a community of women whose purpose is to know God and to experience freedom as whole persons through Jesus Christ; to develop a creative, supportive fellowship; and to expand concepts of mission through participation in the global ministries of the church.
THE VISION
Turning faith, hope and love into action on behalf of women, children and youth around the world.
LIVING THE VISION
We provide opportunities and resources to grow spiritually, become more deeply rooted in Christ and put faith into action.
We are organized for growth, with flexible structures leading to effective witness and action.
We equip women and girls around the world to be leaders in communities, agencies, workplaces, governments and churches.
We work for justice through compassionate service and advocacy to change unfair policies and systems.
We provide educational experiences that lead to personal change in order to transform the world.
WHO IS A MEMBER?
A member of United Methodist Women is anyone who indicates her desire to belong to and participate in the global missions of the church through United Methodist Women and its purpose. Being a member of the United Methodist Church is not required, nor is there any minimum age requirement.
WHY BECOME A MEMBER?
United Methodist Women is a national organization with nearly one million members whose purpose is to foster spiritual growth, develop leaders, and advocate for justice. Members raise approximately $20 million a year for programs and projects related to women, children, and youth in the United States and in more than 130 countries around the world.
WHEN WE MEET
The local organization of UMW, hosted by the circles, usually meets four times during the year for a variety of programs. Circles are small groups of women who usually meet the first Tuesday of the month except for July and August, when the groups are 'dark.' Places and times for meetings may change, so check the church calendar, or call the church office for the latest information.
Circles Kenworthy, Esther and Ruth will meet on Sept. 5, 2017. Call the Church Office for time and location.
An organizational meeting will be held on Sept. 12 at 10 a.m. We will enjoy a program by the Rev. Dr. Leigh Shaw about her trip to Africa University in Zimbabwe.
On Sept. 23, UMW will host a luau with dinner and entertainment.