Upcoming Meetings:
The UMW Circles meet in
September4: Kenworthy

Circle will meet in the Chapel at 4 p.m.
Ruth Circle will meet at 9:30 a.m. in the home of Louise Clark
The
UMW leadership
meeting is September 18 at 10:00
a.m. in the Fellowship Hall.
UMW will be having a Bake Sale at the Farmers'Market on Saturday, September 15 from 8:00
a.m. to 1:00 p.m., and will sell remaining goods, Sunday, September 16 in Narthex.
The UMW Organization meeting is October 9 at 10:00 a.m. in Fellowship Hall. League of Women
Voters coming to explain the ballot; we will have a salad potluck. (No meeting on September 11.)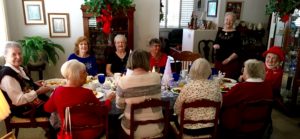 Pictured are some of the members of UMW Ruth Circle enjoying a delicious brunch prepared by Linda Grider for their December meeting. An added highlight was a touching and uplifting video for the devotional presented by Rollin that featured a tender story in song about Mary, Joseph and Baby Jesus.
Read more...
---
OUR PURPOSE
United Methodist Women are a community of women whose purpose is to know God and to experience freedom as whole persons through Jesus Christ; to develop a creative, supportive fellowship; and to expand concepts of mission through participation in the global ministries of the church.
THE VISION
Turning faith, hope and love into action on behalf of women, children and youth around the world.
LIVING THE VISION
We provide opportunities and resources to grow spiritually, become more deeply rooted in Christ and put faith into action.
We are organized for growth, with flexible structures leading to effective witness and action.
We equip women and girls around the world to be leaders in communities, agencies, workplaces, governments and churches.
We work for justice through compassionate service and advocacy to change unfair policies and systems.
We provide educational experiences that lead to personal change in order to transform the world.
WHO IS A MEMBER?
A member of United Methodist Women is anyone who indicates her desire to belong to and participate in the global missions of the church through United Methodist Women and its purpose. Being a member of the United Methodist Church is not required, nor is there any minimum age requirement.
WHY BECOME A MEMBER?
United Methodist Women is a national organization with nearly one million members whose purpose is to foster spiritual growth, develop leaders, and advocate for justice. Members raise approximately $20 million a year for programs and projects related to women, children, and youth in the United States and in more than 130 countries around the world.