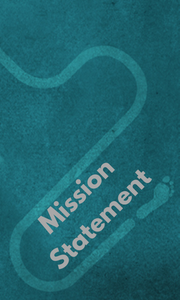 We exist to welcome people to faith; equip people with a faith that works in real life; and send us in service into the world in Jesus' name. Through ongoing, open-group Bible studies, we hope to provide foundational discipleship and a lab environment to practice leadership and ministry skills. Every stage of discipleship matters to the development and maintenance of a mature faith and relationship with Jesus Christ.
* Ongoing Classes: Long-term classes to enrich your study the whole year through.
* "Sunday Suppers" – One-stop classes: Share a meal and learn something about your faith. No extra reading or meetings required.
* Retreats: A time away to study, pray, worship, and reflect.
* Seasonal Studies: Studies around the Holy Seasons of the church – Advent and Lent. Enrich the season with these study options.
* Short-term Studies: Classes that vary in topic and time. Classes tend to run 4-6 weeks and are topical in nature.
On-Going Classes
Disciple: Disciple Fast Track is an adaptation of the original, bestselling Disciple Bible Study. Ideal for busy people who want to fit an in-depth Bible study into their schedule while retaining the familiar Disciple format. This study helps readers deepen their understanding of Scripture and make connections between what they already know and what they are reading.
While identifying some needs in the world for which ministry is needed, invites participants to understand the scripture message and to respond. Classes meet for a total of 24 weeks, studying Genesis-Exodus and Luke–Acts for 12 sessions each.
Upcoming Short-Term Studies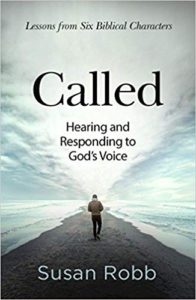 Tuesdays, Sept. 10- Oct. 15, 2019
at 1 p.m.
This Fall, join a study that connects our story with God's story. In Scripture, God interrupts the lives of ordinary men and women, calling and empowering them to lives of service they never could have imagined on their own!
Discover how to hear and respond to the unique call God is placing on your life through the stories of ordinary people found in the Bible. Called will examine the lives of the Abraham, Samuel, Esther and Mary Magdalene, Jonah, and the beloved disciple.
The same God that called these unlikely characters calls you, too, to bring hope and transformation to the world.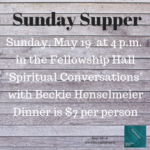 Sunday Suppers
"Spiritual Conversations"
Sunday, May 19 at 4 p.m. in the Fellowship Hall
with Beckie Henselmeier
Dinner is $7 per person
As spiritual beings, our conversations about God and our relationship with the Divine outline how we understand ourselves and the world. Serving as a Chaplain, Beckie was able to facilitate ritual around the end of life, discern with individuals God's place in their lives and God's love for them, and walk alongside them in the difficult questions of life. "Spiritual Conversations" will be a discussion on what Beckie learned in Chaplaincy and the value of these lessons in our lives as people of faith.
Beckie Henselmeier has served as a Chaplain for two extended units of CPE (Clinical Pastoral Education). In 2013, Beckie served as a Chaplain Intern at Sharp Memorial Hospital, working in critical care, trauma, end of life, and pastoral care. In 2018, Beckie served her second unit as a Chaplain with Sharp's Home Health team, visiting patients in their residents.
Beckie is a Candidate for Ministry in the United Methodist Church and has her Master's of Divinity from Iliff School of Theology. Beckie has served at Vista UMC since 2015 and is our Director of Family Ministries. Beckie is called to ministry and is interested in meeting people whom traditional church does not make sense, reminding them that they are beloved children of God and have divine worth.
Upcoming Seasonal Studies
Advent 2019, December 1- December 24, 2019.