Annual Christmas Concert on Sunday, Dec. 9 at 4
p.m. in the Sanctuary.
This year's concert is entitled "All Is Well", and will feature the Chancel Choir, the Anderson Handbell Choir, and Chamber Orchestra, as well as organist Adam Ferrara, and beloved musicians Jimmy Patton and Enrique Platas. Enhance your concert pleasure by planning to come early to hear Rev. Hallock's pre-concert
conversation about the music you are going to hear. The
lecture will begin about 3:15 p.m. before the concert. Light refreshments will be available at that time.
Plan to come and bring family and friends as the music
of the season prepares us for the arrival of Christmas in
music and song. There is no charge for admission; however, a free-will donation will be taken to help support the Music Ministry. Come and celebrate the season with us!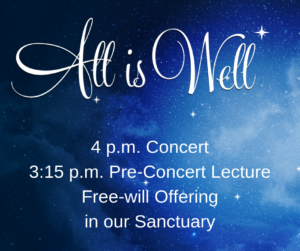 Music and Cultural Tour in 2019
"The world is a book, and those who do not travel only a page." (Saint Augustine)
Several members of our Chancel Choir have traveled over the years, and in the past year the idea arose plan to take a tour together. Therefore, we would like announce the formation of a tour of Scotland/Ireland in summer of 2019, and you are invited! This tour will the rich cultural heritage of both countries, including sites, educational experiences, musical moments, as audience and as performers and a chance to get to folks from other cultures. The projected dates for tour are Tuesday, July 23 to Friday, August 2, 2019, (11 with 9 nights in country). The choir will perform three
concerts in wonderful venues, one a joint concert with the Choir, a choir of seniors and retirees in the suburbs
of Dublin. Our travel arrangements are being made with Tours, who have specialized in Performing Arts since 1955. The tour is inclusive, including our from San Diego overseas, all ground transportation, hosts, two meals a day (lunches on your own), hotel fees and entry costs and the return flight San Diego. Final costs will be determined by the number participants and final air flight arrangements. More on that is available on request. Tour variations can be accommodated as well, individual extensions for instance. An option for joining us for an Ireland only portion of the tour is also possible, at a reduced cost.
While the choir performances will be one highlight of the tour, a great deal of the focus is on experiencing all the benefits that travel has to offer. We will see ancient sites, exquisite architecture, historical locations, wonderful
churches, the glorious landscapes and a chance to meet and interact with the warm hospitality of other peoples.
Please feel invited to join with us, we would love to share the experience with anyone who is interested. Itineraries,
and more information is available from these members of the Tour Committee; Pastor Frank, Beth Hallock and Carol
Pence.