Annual Christmas Concert, Sunday, Dec. 17
The Music Ministry will present its annual Christmas season concert on Sunday, Dec. 17 at 4 p.m. in the Sanctuary. This year's concert is entitled "Rejoice, Rejoice Creation Sings", and will feature the Chancel Choir, the Anderson Handbell Choir, and Chamber Orchestra, as well as organist Adam Ferrara, and beloved musicians Jimmy Patton and Enrique Platas. Enhance your concert pleasure by planning to come early to hear Rev. Hallock's pre-concert conversation about the music you are going to hear. The lecture will begin about 3:15 p.m. before the concert. Light refreshments will be available at that time. Plan to come and bring family and friends as the music of the season prepares us for the arrival of Christmas in music and song. There is no charge for admission; however, a free-will donation will be taken to help support the Music Ministry. Come and celebrate the season with us!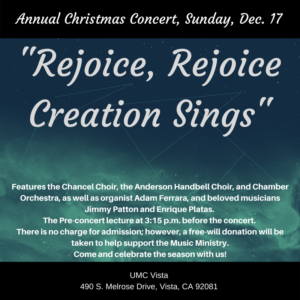 The Chancel Choir
The Chancel Choir shares music for the 11:00 am service. The Chancel Choir features a stunning array of classical hymns, traditional melodies, jazz pieces, spirituals, and contemporary songs conducted by
Rev. Frank Hallock
,
Any adult who loves to sing is welcome. They practice on Thursdays at 7:00 pm.

of Music.
The Praise Band
The Praise Band leads the music for the 9:00 a.m. worship service. The Praise Band features contemporary Christian music, with guitar, bass, and drums. They practice at 8:00 a.m. on Sunday Mornings.
Anderson Hand Bell Choir
The Anderson Hand Bell Choir is the hand bell choir, who performs pieces written for hand bells at special celebrations throughout the year, conducted by
Rev. Frank Hallock
, Minister of Music. They rehearse on Thursdays at 6:00 p.m. in the Choir Room.
Ringers and Singers
Meets Tuesdays at 3:00 p.m. Ringers and Singers, elementary-age children learn to play hand bells and sing church songs.
Sunshine Magic Singers
Meets Tuesdays at 4:00 p.m., following Ringers and Singers. This group is elementary-age children who learn music to share in worship.
For questions, please contact