Our relationship with others is an important part of who we are at The United Methodist Church of Vista. Please explore the opportunities on this and also linked pages.
Pastor Leigh Ann's Monthly Blog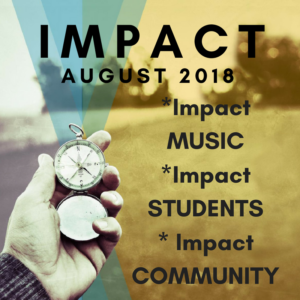 Sunday, Aug. 5 – Impact MUSIC
Music Camp's Summer Concert at 4 p.m. in the Sanctuary
Sunday, Aug. 19 – Impact COMMUNITY
Join our community partners for various service projects.
Sunday, Aug. 26 – Impact HOSPITALITY
UMC Vista end of summer Potluck
Worship during the month of August at 10 a.m. as we "make an IMPACT together."
Silent Auction Fundraiser at IMPACT HOSPITALITY

We are planning an exciting silent auction fund raiser to be held at the All Church Potluck on Sunday August 26. This fundraiser will be to reduce the current general fund budget deficit which is about $10,000. We hope that many of you will attend the potluck and bring items to be a part of the silent auction. You may bring food items, or other items like a round of golf, meals out, unused condo weeks, or other special donated items. Each of you who is donating something will have a silent auction sheet which lists the items and the minimum bid.
We hope that each of you coming to the potluck will bring your checkbook and lots of extra cash to bid high on the items of interest. We prayerfully hope that we can raise several thousand dollars on this event.
We plan of have a sheet on a separate table for the auction items and people can go by and bid on them during the potluck and the winning bids will be announced at the end and the money collected. I hope that you will plan to bring a dish or an item for the silent auction. Linda is baking pies and I am offering a round of golf at Ocean Hills Country Club, and Pastor Leigh Ann is making her special green chili chicken casserole. Maybe we should auction a cruise on the Cable Fantasy. You may auction more than just food items. Maybe you want to auction a dinner someplace, a week in your condo, a trip to the Safari Park, or a surf fishing trip, or any other wild money making ideal that you have.
Rollin
"Make A Difference" Community Partner Faire
Join us before or after worship on Sunday, Sept. 30, 2018 for an opportunity to visit with our COMMUNITY Partners.
Get to know organizations that are doing amazing work in our community and around the world! This is your opportunity to Connect with our Community Partners!
See Beth Brainard Hallock for more information.