Save the date! Alternative Christmas is Sunday, November 11 from 9 am to 12:30 pm in the Narthex and upper lawn area. Alternative Christmas gives you an opportunity to purchase Christmas gifts for people or for you to make a donation in another person's name, to a charity of your choice. This year we will have 10 worthy projects from which to make your selections. More information to come. Questions, see Brenda Walker.
Sierra Service Project (SSP) Mission Team 2019

SSP offers a week-long service projects during the summer for middle school and high school youth groups. Each summer, 125 churches and 2,000 youth and adult leaders join together at one of our sites located in urban and rural communities across the western states. At SSP, youth are safe to grow in their faith, learn new skills, and make new friends while serving those in need. SSP serves the elderly, poor and marginalized. Our service is offered without strings attached, with respect and humility

International Child Care

Grace Children's Hospital, founded in 1967, is recognized as Haiti's leading medical facility dedicated to the treatment of children with tuberculosis (TB). Each year, the hospital receives thousands of children who are suffering from TB, HIV, and other diseases.
and Two Fishes
A group of volunteers provides food, clothing, and fellowship to homeless men and women each week on Thursday night. We rely on the generous gifts of church members and members of our local community to make a nutritious dinner, as well as a sack lunch for the next day. We invite you to participate in this ministry, working on meal preparation from 2:00 pm until 4:00 pm and meal service from 5:00 pm until 6:15 pm. Contact the church for volunteer details.

Neighborhood House of Calexico

Neighborhood House of Calexico, Inc. serves the Imperial Valley region, with a specific focus on the needs of low-income women and children.
Thanks to the generous support of the community, Calexico Neighborhood House is able to provide direct services to much of the community. We offer specific thanks to individuals, organizations, and collaborative partners who continue to help make our services available to the community through participatory or monetary support.
United Methodist Committee on Relief (UMCOR)

UMCOR is a ministry of
The United Methodist Church
, and our goal is to assist the most vulnerable persons affected by crisis or chronic need without regard to their race, religion, gender, or sexual orientation. We believe all people have God-given worth and dignity.

Operation HOPE – Vista (Homeless Outreach Providing Encouragement) evolved out of a need identified by the City of Vista in 2003. The City reached out to members of the faith community to come discuss providing shelter for homeless families with children.
Operation HOPE – Vista was commissioned by the Vista City Council to provide emergency winter shelter to families living in Vista and the surrounding area. .In its first year of existence, hotel/motel vouchers were issued as the primary assistance available. By the second winter, an actual structure was found in which families were given shelter.
Vision: The Guatemala project aims to create opportunities for the people of Gualan to empower themselves as to improve their social and economic conditions.
Mission: The Guatemalan Project works to make the tools that are necessary for the development of Gualan available, attainable, and sustainable. Acknowledging that the members of this community are the most knowledgeable regarding the need of their families we aim to empower through partnership rather than lead. The Guatemalan Project recognizes four areas in which the focus of our activity lies: finance, education, health, and employment.

Heifer Project
Heifer International believes that the collective power of economic development, food security and nutrition, and environmental sustainability can empower small-scale farmers on the path to living incomes. When those components are multiplied by the positive impacts of gender equality and social capital, communities achieve greater resilience and a sustainable reduction in hunger and poverty.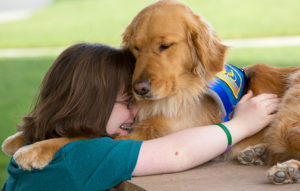 Canine Companions for Independence
Founded in 1975, Canine Companions for Independence® is a non-profit organization that enhances the lives of people with disabilities by providing highly trained assistance dogs and ongoing support to ensure quality partnerships.
The assistance dogs we breed, raise and train aren't just the ears, hands and legs of their human partners. They're also goodwill ambassadors and often, their best friends. They open up new opportunities and new possibilities, and spread incredible joy. We unite people with dogs in a powerful program that leads to greater independence and confidence.